Ferret Haven By The Sea is a non-profit no-kill animal shelter which is dedicated to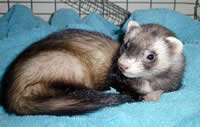 helping ferrets, and educating the public in the proper care and treatment of ferrets. We take in lost, unclaimed, or owner-released ferrets and place them in homes. If the ferret is sick, veterinary care is provided before adoption. All ferrets are current on their distemper shots. If a ferrets' health or age does not allow for adoption, we care for that ferret until its natural death. We NEVER put a ferret to sleep because we could not find him/her a home.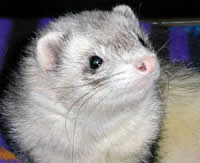 For a kit (up to 9 months old) the adoption fee is $80.00, for adult ferrets the adoption fee is $60.00, and for an older ferret the adoption fee is $40.00. In some cases where a pair can not be separated, the fee is $90.00.
There is a mandatory owner-release fee of $25. The release fee, in conjunction with completing the release form is to cover the cost of vaccinations and veterinary care for the ferret.
You can contact Ferret Haven "By-the-Sea" at the phone number on the Contact Us page or by email at fhbythesea@ferrethaven.org.
Ferret Haven "By-the-Sea" serves the Southeastern part of Virginia. We do not ship ferrets and the shelter is open by appointment only.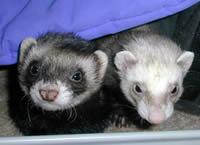 Not close to us, but located in the State of Virginia? There are quite a few shelters scattered throughout the state. Richmond area:
Richmond Ferret Rescue League
Marlene Blackburn, Director. 804-276-3905.
Email: va_fert_resq@hotmail.com or richmondfert@aim.com.

Bonnie Russell at Washington Metro Area Ferret Outreach
www.wmafo.org
Email: info@wmafo.org

Other places to find a shelter: www.ferretcentral.org or www.ferret.org