About Adoptions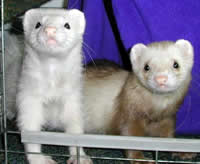 Before you look at the cute pictures of the hopeful candidates for adoption, please read the following. The Ferret Haven "By-the-Sea" has a standard adoption application procedure. I hope that any potential adopter will understand that since for one reason or another, these ferrets have already been in multiple homes, that we are looking for their final home and so everyone needs to fill out an adoption form.
All potential adopters must fill out an adoption application. There are no exceptions. If you are unable to open/print our form, you can email the shelter at fhbythesea@ferrethaven.org and we will send one to you through the US Mail, or email the application to you. We don't ship our ferrets and will only adopt out locally (Southeastern Virginia). There are shelters in every state, so go to www.ferretcentral.org to locate a closer shelter.
Call/email us to set up an appointment. When you set up an appointment, please be on time. NO WALK INS! YOU WILL BE POLITELY TURNED AWAY!
We do require an in person interview so that we can discuss your ferret experience, any other animals in your household, your vet of choice, your home life/lifestyle to try and best match the ferret to you. If you already have ferrets, bring them to see if he/she gets along with your potential new friend. We reserve the right to deny adoption to anyone for any reason.
Bring a carrier. If you do find a match, you are going to need a safe method of transporting your ferret. We won't allow you to leave holding one in your lap – its just not safe for you or the ferret.
We do have an adoption fee. It is based on the age of the ferret. Kits under 9 months of age are $80.00, adults between 9mo – 5 years are $60.00 and older ferrets (over 5) are $40.00. Bonded pairs over the age of 9mo (ferrets that come in together) are $90.00. This adoption fee helps us cover the costs of food, shelter, vaccinations and veterinary care. Additionally, there is a mandatory owner-release fee of $25. The release fee, in conjunction with completing the release form is to cover the cost of vaccinations and veterinary care for the ferret.
We can not adopt to children. This is a requirement by law. We can adopt to the parents, however – but all parties must come to the shelter. We don't adopt out ferrets as birthday or christmas presents. We won't adopt to anyone that is not willing to feed the proper diet required (Purina kitten chow is not an acceptable food for ferrets). Proper diets include: Totally Ferret, TFS Superior Choice, 8in1Ultimate, Iams Kitten, Eukanuba kitten, Path Valley Food, Marshall's diet, etc.
Our adoption page is subject to change – so the ferret that you see on the page may already be adopted. We can only hold a ferret if a non-refundable deposit (good only for 15 days) is placed on the ferret.
Visit our Stores

---