Black Footed Ferret

The Black-Footed Ferret Recovery Implementation Team
Cochise
Cochise was born on the 5th of June, 1996 at the Louisville Zoo in Louisville, Kentucky. He moved to the Omaha Henry Doorly Zoo in Nebraska in October 1996. He was one of six kits (baby ferrets) born to Sia and Matthew. Chochise is very territorial and quite vocal whenever someone approaches his nestbox. He enjoys hiding in paper sacks provided by the ferret keepers. His personality might best be described as "fiesty!"
Cochise weighs 994 grams.
Kiva
Kiva was born the 6th of June, 1996 at the Louisville Zoo in Louisville, Kentucky to Hopi (mother or "dam") and Kiowa (father or "sire") and was one of a litter of four. "Kiva" is the name of the ceremonial structure created by the Hopi tribe. Her litter mates were all released into the wild young, so they were not named. Kiva was bred by Cheyenne last year and had a litter of one male and five females, named "Cacique" (the chief Hopi priest who cares for the kiva), "Adobe" (southwestern brick), "Anasazi" (a pre-historic southwest tribe, pre-Hopi), "Mohave" (tribe of the Yuma Nation), "Nampeyo" (a female Hopi potter), and "Seri" (a Mexican plains tribe). This year, Kiva whelped (birthed) a litter of four males and three females. She is a ferret who needs lots of toys and enrichments to occupy her time, or she tends to get into trouble. She enjoys attacking a Gumabone® wishbone that dangles above her tunnel opening.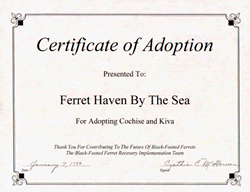 ---
Black-footed ferrets are generally about 20 - 24 inches long, including a 6 inch tail. They weigh about two pounds.
Black-footed ferrets are members of the mustelidae family which includes mink, weasels, badgers, skunks, otters and the domestic ferret - a popular pet.
Black-footed ferrets were thought to be extinct until a small population was discovered in northwest Wyoming in 1981. The last 18 known wild ferrets were taken into captivity and today about 300 live in 7 captive breeding centers in North America. Their offspring have been released back into the wild in several western states including Wyoming, Montana, South Dakota and Arizona. Ferrets were also released in northwestern Colorado for the first time in the fall of 1998.
GIVE THE GIFT OF WILDLIFE! Black-footed ferrets are the rarest mammals in North America. Once nearly extinct, ferrets are making a comeback through breeding and release programs into their native prairie grasslands across the West.
The Black-Footed Ferret Adoption Program is a project of The Black-Footed Ferret Recovery Implementation Team with the assistance of the National Fish and Wildlife Foundation. A Portion of your donation is tax-deductible.
WEBSITE: http://www.blackfootedferret.org/